What is "Business Continuity"?

What would happen if your business experienced a crash or other form of disaster? Do you have a backup plan and process in place to prevent data loss? How quickly could you recover? Could you recover? Would things continue on as if nothing had happened?
Business continuity is perhaps the most important IT-related consideration for any business. It is frequently overlooked or not maintained properly and consistently.
It means your business' operations will continue following the events of a disaster without incuring the usual and significant costs resulting from downtime and the recovery process itself. Time is of the essence, and you need to get back to work again as fast as possible.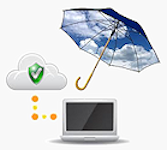 Business continuity defines the activities performed by PC Guru every day to ensure that your critical business functions and data will be available to your employees, customers, suppliers, and other entities that must have access to those functions and information. These activities include many daily chores such as project management, remote systems monitoring and administration, system backups, change control, patch management, and help desk. Business continuity is not something implemented at the time of a disaster; rather Business Continuity refers to those preventative activities performed daily to maintain service, consistency, and recoverability.
Running your business isn't easy. You shouldn't have to waste your time and effort performing these essential chores. This is what we do! We'll help you create or update your business' continuity plan, so you can get back to what you do best; running your business.
This is the foundation for Managed Services and protecting your business. These are all things that either -someone- in your business must attend to, or leave it to an IT service like PC Guru. Let us handle all of your IT needs for a single monthly fee, and we'll put you in control of your business like never before.
Your business' information equals the value of your business itself. Protect it the right way! Whatever the data; operations information, an e-mail message and critical attachments, a database, or even photos from job sites; it's got to be there whenever and wherever you need it. Especially following a disaster. Let us show you how, and in the most cost-effective way for your situation. Call us today for a free, no risk consultation: (626) 593-7055.